Nutrisens Medical overview
Let's talk about Dysphagia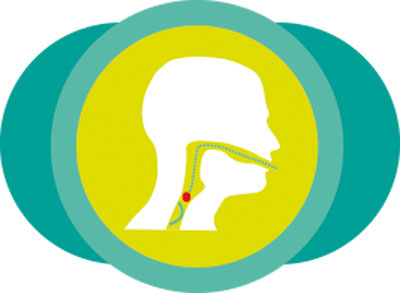 Swallowing is a sensory-motor activity (mobilising 6 cranial nerves and 35 muscles). It consists of 3 phases:
The oral phase:
The preparatory phase: recognition of food, mastication, salivation, perception of the tastes, flavour, size and texture of the bolus
Propulsion phase: the tongue pushes the bolus towards the back of the mouth
The pharyngeal phase:
closure of the larynx (airway) and propulsion of the bolus towards the oesophagus
The oesophageal phase:
propulsion of the bolus down to the stomach
Dysphagia or difficulty in swallowing is a defect in airway protection when the food bolus travels towards the oesophagus. (Resulting in food going down the wrong way whilst eating, or a disorder affecting the transit of the food bolus towards the oesophagus, leaving residues in the pharynx which may go down the wrong way later.)
Prevalence amongst the elderly:
8 to 15% in their own homes
30-50% in institutions
Age itself does not increase the risk of dysphagia but the frequency of pathologies altering swallowing does.
Causes:
Related to ageing: lack of muscular strength, poor dental health and altered gustatory receptors
Neurodegenerative disorders
After a cerebrovascular stroke
Diseases of the ENT area (ENT cancer)
Muscular (myopathies)
Medicines (dryness of the mucous membranes)
The consequences are even more serious for the elderly:
Risk of undernutrition: loss of the desire to feed oneself, fear of eating and thus a decrease in food intake
Risk of dehydration: if approximately 1 litre of water is provided by food, 1 litre must be consumed through drinks. (Source: Nutrition for the Elderly – a guide for carers, published within the framework of the French National Nutrition and Health Programme).
Anxiety, depression
Consequences of aspiration: aspiration pneumonia or deterioration of respiratory function